Company Details
Registered Name: OLDHAM COMMUNITY LEISURE LIMITED
Registered Office: Chadderton Wellbeing Centre, 1st Floor
Chadderton Wellbeing Centre
Burnley Street
Chadderton
OL9 0JW
Company Number: IP29372R
Telephone: 0161 207 7000 E-mail: Info@ocll.co.uk
View our Video Annual Report
How OCL is organised
The Chief Executive is responsible for the day to day management of OCL's affairs, and he is accountable to the Board of Directors, who appoints, remove and fix the Chief Executive's terms and conditions of employment.
The Board of Directors ensures that OCL conducts its affairs in accordance with its stated purpose. It sets the policies, strategies and objectives, and then supervises the Chief Executive and his staff who are responsible for delivering them. The Board is accountable to the members through elections and the power of removal.
In effect the registered society operates as a leisure trust which offers significant tax advantages and efficiencies which enhance capital re-investment into the facilities.
What does OCL do?
The company is responsible for the management, operation and development of 11 Sports Centres/Swimming Pools and Synthetic Pitches in Oldham.
Since it was formed on 17th November 2002 OCL has operated the facilities in partnership with other agencies to improve the health, well-being, and physical activity for the people of Oldham.
The management team have continued to work hard with partners to secure additional funding to improve the leisure stock within Oldham. From small beginnings OCL has:
replaced the bowling green carpet at Oldham Sports Centre,
refurbished the café at Oldham Sports Centre,
replaced the fitness equipment at all its sites,
replaced the synthetic pitches at Chapel Road and Royton and Crompton,
significantly invested in the Saddleworth complex. Saddleworth saw £2m being invested to create a 55 station fitness suite and dance studio and three small sided 3G pitches.
In November 2009 the Chadderton Wellbeing Centre opened including a new swimming pool, 55 station gym and dance studio.
The annually reviewed Strategic Performance Plan (SPP) is now embedded in the culture of OCL and focuses on:
continuous improvement in quality service delivery,
the need to improve the health of Oldhamers,
breaking down barriers in communities,
offering health and physical activity to target groups in the community.
OCL has a Mission Statement of: "a community more active more often"
Our vision is to create an environment in which sport, active recreation and leisure are integrated into the lifestyle of all Oldham citizens, in order that community cohesion and health benefits are continually improving.
Sport, leisure and active recreational activity will be used as an essential component in supporting and developing the infrastructure of the community and to improve the quality of life both physically and mentally. We will actively work with partner organisations in order to facilitate this development through a better understanding of the issues and a sharing of resources to achieve success.
The values of our organisation will be based on the concept of continuous improvement. This will be achieved through the use of external quality recognition schemes including Investors in People and Quest for Facility Management (Based on the European Business Excellence Model).
OCL will seek to provide best value in delivering services for which it is responsible. It will deliver its core themes of Health, Adult, Young People and Families, Community Cohesion, the Environment and Quality of life in a context of sustainability, accountability, flexibility and innovation.
In order to achieve this mission, representatives of the key stakeholders in OCL, The Management Committee, the management, staff and partners have worked together meeting annually to create a Strategic Performance Plan on which the Company and its Employees can focus on.
We are governed strategically by a board of directors who are appointed annually. They meet six times a year including the AGM which is open to shareholders to receive the annual report, the accounts and to vote the directors onto the board.
To attend the meetings individuals are required to purchase a share. Shares are available on a non-redeemable, non-transferable preference share costing £20 and available by emailing info@ocll.co.uk .
Becoming a Member
Membership is open to anybody who is 16 or over, and who is employed by OCL (employee members) or who uses OCL facilities or has an interest in sport and leisure (community members). Admission to become a shareholder is agreed through an approval process undertaken by the Board.
Members can attend members meetings, receive information about OCL, vote in the election of Board Members, seek nomination for serving on the Board, and take part in the other member activities which OCL provides.
OCL is committed to a number of things, for example carrying on its business for the benefit of the community, retaining (and not distributing) its profits, respecting the rights of people and openness in the way it conducts its affairs.
Nigel Harrison – Chair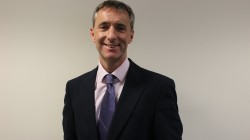 Nigel is currently the Chief Executive Officer of Yorkshire Sport Foundation, the sports charity that operates the County Sports Partnerships of West Yorkshire Sport and South Yorkshire Sport. Nigel was the first employee of West Yorkshire Sport since its inception in 2001 and has led the organisation's growth, transition to a charitable company and alliance with South Yorkshire Sport. Over that time he has been responsible for delivering numerous national and local sports development programmes and has led the writing of various district wide and sports specific plans across the Yorkshire area. He has also led work on behalf of all England's County Sports Partnerships.
Prior to that he held several roles with Calderdale Council including managing The Shay football ground and leading the council's sports development team. He went to Calderdale from North Warwickshire where he managed a sports centre.
He has a BA (Hons) degree in Sport and Recreation Studies along with a Masters of Business Administration degree.
Nigel grew up in Hathershaw, attended Fitton Hill Comprehensive School and one of his first jobs was as an attendant at Oldham Sports Centre. He has lived in Royton since 2002.
He has a passion for sport regularly playing football and tennis along with recreationally running several times a week. He has completed the Oldham Half Marathon and Oldham 10k in recent years.
Jack Butterworth
Jack Butterworth is currently semi- retired. Jack was educated in Oldham, with a Certificate in Marketing from Open University. From 2001 to present Jack has run his own business as a self-employed manufacturer's agent servicing customers across the north west of England.
Jack has previous experience as a National Sales Manager, responsible for recruiting, training and managing a team of between 6 and 8 representatives. Prior to this he spent 20 years with Vitrex Tools Ltd, starting as a representative and becoming northern regional sales manager.
Around 1980 Jack joined the "jogging boom" and went on to run several marathons, shorter races and a few fell races. Jack still keeps fit running, cycling and some swimming. Jack also took part in the Oldham half marathon last year and has completed the occasional sprint triathlon, very often as the oldest competitor.
Jack is keen to be a part of the OCL Board to support action to encourage older people who lack the confidence to take part under carefully regulated exercise as well as those from the BME community.
Lesley Clegg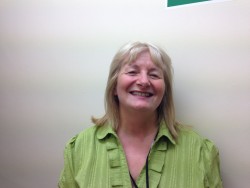 Lesley was one of the original Management Committee staff representatives in 2003 and with five years' experience on the board Lesley has knowledge and commitment which proves beneficial.
As one of the original staff representatives Lesley fought hard to keep the same working conditions OCL had with Oldham Council and will continue to strive for better working environments such as new buildings and technology.
Lesley is employed as OCL's Assistant Finance Manager dealing with the day to day running of finance. Her role is to ensure that staff and creditors are paid on time and that all income is recorded safely and accurately.
Lesley's beliefs and commitment have not changed over the years and she believes that communication is important.
Cllr Chris Gloster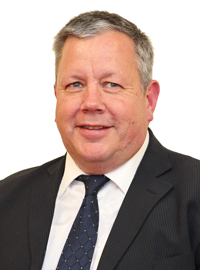 Chris is a Liberal Democrat Councillor for the ward of Shaw and won his Oldham Council seat for the first time in local elections in May 2015.  Chris is also Shadow Cabinet Member for Health and Wellbeing with responsibilities that include health devolution, public health and improvement.
Chris is Shaw born and bred and very proud to represent all residents in the community.  He lives in Fullwood, Shaw, with his wife, Hazel, who works as an education advisor and they have two children. His son is an apprentice mechanic for OMC Ford and his daughter is a pupil at Crompton House school.
Chris' interest in council affairs began during his time served as community police inspector for Shaw and Royton when he worked closely alongside elected local councillors and council officers.  He has also been a school governor for 12 years and is currently serving in this capacity for Crompton House school and East Crompton St James.
Chris' passions in life are helping to make Shaw a great place for people to grow up, live and work, and – when he has time – motorsport.
Matt Holt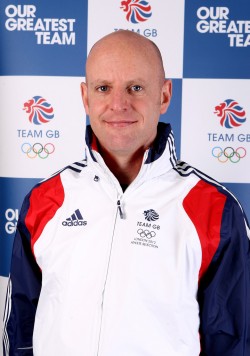 Matt Holt has a range of experience working within the sport sector. Matt started his career working in academic research related to the governance of football. He then spent three years working with Sport England and the role provided him with a critical and detailed understanding of community sport and the challenges of sustaining and increasing participation and enabling people to develop to their full potential.
In Matt's current role as Chief Executive, Board Member and Company Secretary of the British Amateur Boxing Association, Matt has overall responsibility for the delivery of the World Class Performance Programme funded by UK Sport for boxing. In his current role in particular he has led the development and delivery of strategy within a high profile sport, and work on a daily basis to drive continuous improvement within our organisation, a commitment shared by Oldham Community Leisure. The role has also given him experience of building commercial relationships within sport, as well as dealing with the media and managing corporate communications.
Having moved to the Oldham area three years ago, Matt is keen to play a voluntary role within a local organisation in the sport and leisure sector, in the place where he has settled with his family. Matt would like to make a contribution and put something back into a sector that has provided him with so much, but would like to keep learning and gain greater insight into the provision of local sport and leisure services.
Stuart Lockwood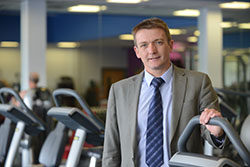 Stuart Lockwood is appointed as a Director ex officio as holder of the office of Chief Executive. He has worked in the industry for over 25 years in the Public, Private and Trust sectors, joining OCL initally in 2009 as Director of Operations before promotion to Chief Executive in 2011. He sits on a number of Oldham Boards and Partnerships including the Health and Wellbeing Board, Oldham Leadership Board and the Oldham Race Equality Partnership, and he is also a Director on the SPORTA Executive Board as the North West regional representative. He takes part in a variety of outdoor challenges and running events every year, as well as regularly playing football and golf.
Dr Marisa Logan-Ward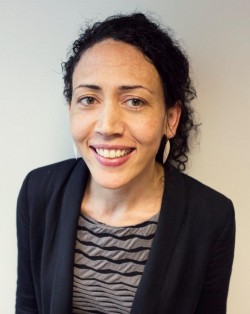 Marisa is a passionate and results-driven healthcare professional with expertise in strategy, marketing and public relations. Marisa has demonstrable experience in major change programmes and has worked in diverse healthcare organisations including the Department of Health, NHS Trusts and private hospital groups. She has managed multi-site, multi-discipline organisations and has a reputation for turning board level objectives into measurable outcomes".
Marisa has a Ph.d in Immunology as well as a BSc (Hons) degree in biomedical sciences. Currently working for Unilabs, Marisa is the Business Development Director and has previous experience as Managing, Programme and Group Directors as well as previous experience of marketing, PR and Board level experience.
Marisa is a keen sportswoman with particular interests in running, mountain biking and football.
John Pietrzak
John is the Faculty Head of Sport, Travel and Public Services at Oldham College, a qualified Teacher and Sport Psychologist. He has been employed by Oldham College since 2009 starting out as a Teacher of Sport and Uniformed Public Services. John gained promotion in 2011 to become Lead of Public Services before being appointed as Head of Faculty in 2014.
John holds a BSc (Hons) in Psychology of Sport and Exercise, an MSc in Sports Psychology and a PGCE in Post Compulsory Education. He grew up in Oldham, attending St Augustine's of Canterbury High School. Consequently, John is truly passionate about Sport, Education and the success of Oldham, firmly believing that Sport and Exercise should be used as vehicles to educate, raise self-esteem and improve community cohesion.
Cllr Vita Price
Tariq Rafique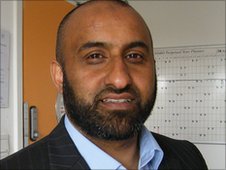 Tariq is currently the Director of Oldham Race Equality Partnership. The role involves leading on race equality, community cohesion, development of strategic projects working for the betterment of the community.
Tariq has over 20 years of experience in the field of community relations and youth developmental work having started his career as a Youth Officer within Oldham.
Tariq has also been involved in community initiatives such as Governor at the Waterhead academy and member of the Abaseen Welfare Charity.
Tariq graduated from the University of Manchester with a BA Honours Degree in Social Policy.
Jo Smallwood
Jo has worked for OMBC/OCLL for the past 21 years. She started as a Youth trainee, today's Modern apprentice and has worked her way up to her current role as General Manager at Oldham Leisure Centre.
Within this time she has worked in various different roles, these include receptionist cover, fitness instructor, swim teacher, circuit instructor, pool lifeguard, Duty Manager, Events worker, League Manager, Team Leader and General Manager. This broad background of roles and has given Jo a unique in-site both into the company as it has developed, but also an ability to relate to the frontline pressures associated with these customer facing roles.
Jo is a dedicated individual who strives to ensure OCL continues to develop as well as all the teams within. She has a hands on pro-active approach with all of the sites and staff that she manages. Jo is a very approachable person with excellent communication skills, with staff often approaching her for advice or with ideas of their own on how OCL as a company can develop. Jo has good relations with all staff levels including higher management and existing board members.
Jo is able to provide a vital communication link between the "rank & file" viewpoints and the Board, whilst considering the wider company strategy.
Ian Watson
Ian has been an Oldham GP since 1997, working in Saddleworth as well as working as a GP with Special Interest in sports and exercise and musculoskeletal medicine. Ian holds a Masters degree in sports medicine, a Diploma in Mountain Medicine and a Post Graduate Diploma in sports and Exercise Medicine (distinction). In addition he is also Associate Medical Director at Pennine Care NHSFT and chair Primary Care Oldham LLP. Outside of work he is a keen and active sports person: mountaineering, rock climbing, long distance running, mountain/road biking and karate. Ian is also a member of Saddleworth Runners running club. Ian joined the board of OCL in 2016 as a co-opted member and looks forward to playing an active role there trying to develop links through his professional portfolio of hats.
Dave Weldon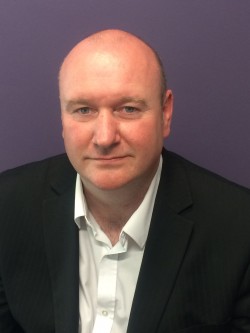 Dave has been a co-opted Director on the OCL Board since February 2014 and became a Community Director in January 2016. David is an active member of the Finance Subcommittee, which is the primary purpose of his role on the Board.
Dave undertook a part time secondment to OCL as Director of Finance to support the company through the recent tender process and has now returned to his full time role as Director of Finance in neighbouring Leisure trust, Link4Life.
Dave lives in Royton with his wife and children.
Kay Wheelton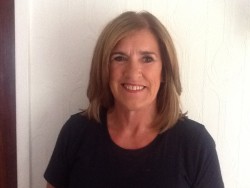 Kay was born, raised and educated in Oldham until she left to attend Leicester University, returning after graduation to marry and raise her two children.
Kay's business career was with the Co-operative Group in Manchester for over 30 years including senior management role within the Food division, as well as having worked in various marketing and buying roles throughout the management hierarchy.
Kay also has a passion for sport and fitness, and the role it has in Oldham. Her involvement started as a primary school pupil, representing the town at swimming going on to swim for Oldham Swimming Club. As a student, her holiday job was at Oldham Stadium and after University; she played in the Oldham netball league for almost twenty years and still plays in the Oldham tennis league. As a mother, Kay has supported her children in every sport they played on Oldham's pitches, courts and swimming pools.
Kay also currently holds a voluntary role on the regional advisory board of the National Trust.
Cllr Diane Williamson
Mackenzie Wright
Mackenzie has joined the OCL board as a staff representative. He is currently based at Failsworth Sports Centre as the sites Fitness Team Leader but has previously worked across OCL in a number of positions.
He is a firm believer in the powers of exercise & activity. He has always enjoyed taking part in sports most predominately basketball, but recently completing the Yorkshire 3 Peaks challenge and signing up to the Milltown to Moors race series and National 3 Peaks challenge.  
Since joining OCL, Mackenzie has completed courses to further his understanding of the Leisure & Fitness industry. He is currently undertaking a course in Management & holds BSc Hons degree in Sports and Exercise Science form Leeds Metropolitan University.
Minutes of Board meetings are available to Shareholders upon request. You can contact OCL or its Directors via info@ocll.co.uk or by writing to:
C/O Chadderton Wellbeing Centre, Burnley Street, Chadderton, OL9 0JW.
Page updated – April 2017