Children's Swimming Lessons
Here at Oldham Active, we offer Swimming Lessons to cater for all ability levels, ensuring that we deliver the highest standards of swimming excellence. Our Active Swimming Lessons offer a comprehensive range of lessons from your baby's first experience in the pool through to competitive swimming, lifesaving skills and Adult Lessons plus much more.
Oldham Active Kids Swimming Lessons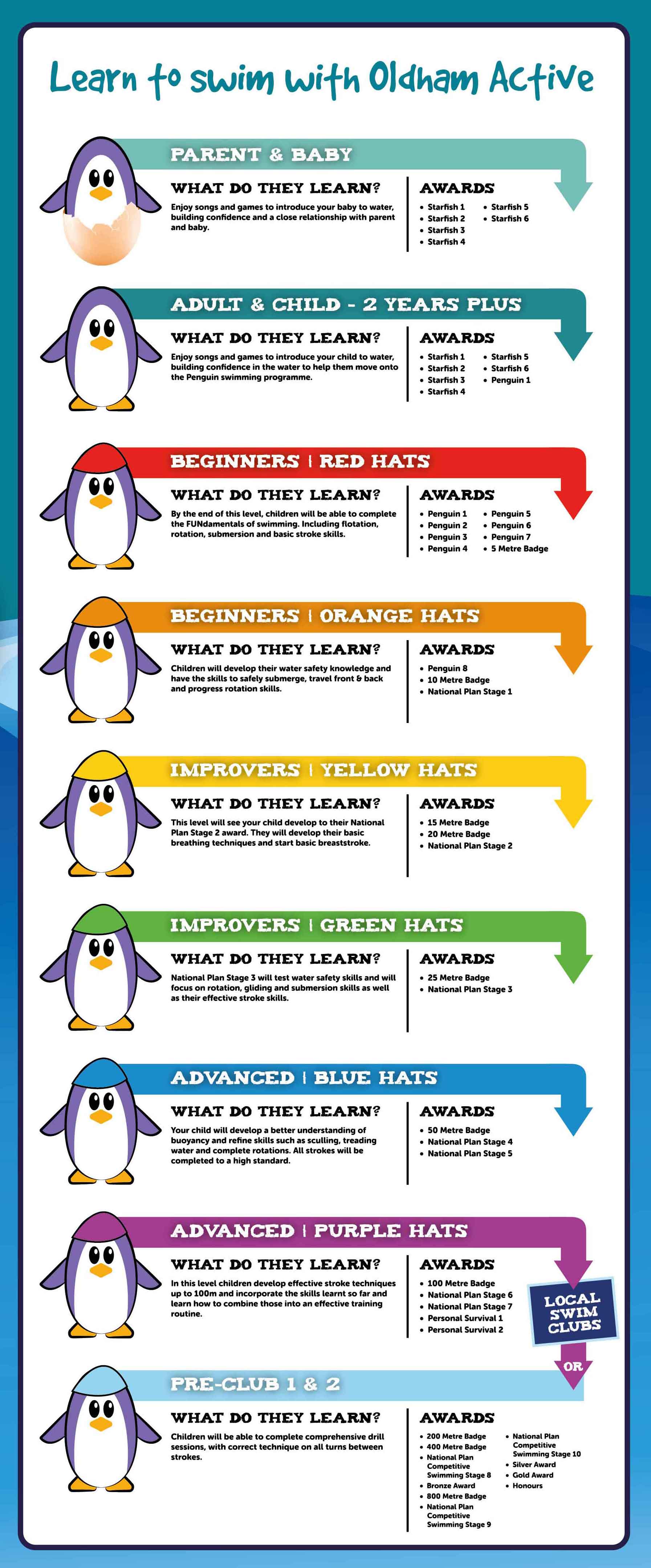 Our Aims
 Oldham Active is committed to providing an effective and efficient swimming development pathway for children of all abilities. Our main aims are;
• To provide a safe and enjoyable environment, conducive to learning.
• To ensure that our teachers and coaches are qualified to provide the expertise necessary to develop good swimming techniques.
• To promote the care and understanding of individual needs.
• To encourage the endeavours and achievements at all levels.
• To set high standards of assessment, ensuring that appropriate practices are used to achieve each level.
• To advise our pupils of the opportunities available to them on completion of our scheme, to further their pathway in swimming.
• To provide beginners classes with an assistant teacher in the water when required.
• To provide direct links with National Governing Bodies.
• To provide efficient and effective links with school swimming, local clubs and other aquatic disciplines.
Frequently Asked Questions
Why should my child learn to swim?
Swimming is not only a great way of keeping fit, but it is also a valuable step to increase the safety of children in and around water. Although water can be fun, it can often be dangerous, so by equipping a child with the skills of swimming, the child will grow up with the knowledge of what to do and what not to do if a situation occurs. This is a point recognised by the government, which has meant that swimming is a part of the National Curriculum.
How do I get my child onto Active Kids Swimming Lessons?
All you have to do is complete an enquiry form and a member of the Aquatics Team will contact you. To get an enquiry form just ask at any centre reception, email the Aquatic Swim Team Leaders on swimlessons@ocll.co.uk or call our Customer Contact Centre on 0161 207 7000.
Does it matter if my child joins partway through a course?
No, we place children in the session appropriate to their ability. We treat and progress children as individuals not as a group.
What swim equipment is needed?
We provide arm bands and floats for children learning to swim to aid confidence in the water. Swimming hats are provided free of charge to children on the scheme.
How do children progress through the scheme?
The badge schemes we have adopted provide clear guidance on what children need to achieve before progressing through to the next level. We assess children regularly and this is done as part of the lesson so children are not placed under pressure at any time. Children who successfully complete an award will be sent an email to the address on the child's account and can then be purchased at Reception.
Are Swimming Lessons structured?
Lessons are structured but, like in the early years at school, play is a key feature in beginner's lessons. When children are young it can be hard for them to concentrate for long periods of time and play makes it more interesting. Play also encourages confidence in the water that in turn aids progression. Lessons become more structured as children develop skills and confidence in the water.
Are 30 minute Swimming Lesson a week enough for my child to learn how to swim?
Yes, we have found through many years of experience that young children learn very quickly with only half an hour in the pool each week. However, it can help if you take your child swimming in between lessons to practice skills learnt within their lesson and maintain their swimming enthusiasm. If you pay for your child's swimming lessons by Direct Debit, they can swim for free outside of their lessons.
How can I pay for my child's Swimming Lessons?
Payment can be made by Direct Debit or 10 lessons up front. No refunds are available for children who miss part of the course except in exceptional circumstances. Credit will be given on the following course with a relevant doctor's note for illness or injury. If you enrol your child onto a course and do not attend you could be liable for payment of that course.
New to Oldham Active – Learn2
Learn2 allows Active Kids swimming lessons to be delivered in a simpler and more effective way, by using electronic registration and assessment. The new system will launch in April 2016.

As part of Learn2, our Swim Teachers are now using iPods on poolside to record each child's attendance and progress, which parents can then view through the Learn2 Home Portal.
Follow our simple step by step guide below on how to register for Learn2, and our frequently asked questions for further information.
How to Register – Step by Step
Step 1
You can register your child by visiting www.oclactive.co.uk/my-learn2 and clicking the Register Now button and entering your ID number which can be found on the back of your Active Kids Swimming Lesson card. If you have already registered, you can log on by using your ID number or your email address and password.
Step 2
Enter your child's date of birth, and your email address and postcode. This info must match what we have on our system, to make sure your info is up to date please complete a data collection form that can be found at any Oldham Active Centre reception.
Step 3
If you have more than one child attending Active Kids Swimming Lessons, you can register them by completing their details. You will then be able to view each child's attendance, progress and certificates all under the same account.
Step 4
Once you have completed the registration process, you can then choose your own password and verify your email address, this is where your notifications on payment, your child's lesson information and progress will be sent.
We've compiled a few helpful frequently asked questions below, but if you have any additional enquiries, please feel free to get in touch.
How do I register to use Learn2?
Simply follow our Step by Step Guide below on how to register. If you have already registered, visit www.oclactive.co.uk/my-learn2 where you can login by using your email address and ID number – your ID number can be found on the back of your child's Active Kids Swimming Lesson card.
How do I pay for my child's swimming lessons using Learn2?
Paying for your child's swimming lessons is now quicker and easier, without the need to queue at reception. Login to the Learn2 Home Portal where you can pay online once you have 3 lessons remaining.
Can I change to pay by Direct Debit?
If you would prefer to pay for your child's swimming lessons by monthly Direct Debit, simply visit www.oclactive.co.uk/activekidsDD and follow the steps to set up your payments.
Did you know? If you pay for your child's swimming lessons by direct debit, your child also receives free unlimited swim outside their swimming lessons!