All centres
First Time Rider? Don't Let Spin Put You in a Spin!
Always wanted to try Spin? Don't let it intimidate you! Below we will discuss why we love spin and we will crush any worries or queries you may have.
Spin is a fun, high intensity class, set to music, and taught on a stationary bike as an instructor guides you through a 
visualisation

 of a workout. The pace and speed will vary throughout the work out, interchanging through standing and seated positions and is a great way to burn fat and get fit.
Spin is available at Royton and Oldham as well as our new Spin Studios at Chadderton and Failsworth. We have a variety of qualified instructors at each site, so you can find different variations with each instructor.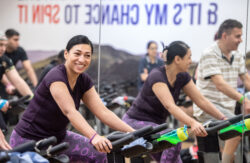 Why do we love spin?
Spin is great because you control the intensity. Your instructor may encourage you to keep increasing the intensity, but it is up to you, you decide your limits. No one else knows how difficult the intensity is on your bike, so you will not feel judged or compared to anyone else. If you are feeling overwhelmed or it is too intense, you can turn down the resistance at any time and have a break. Another reason we love Spin is because each instructor creates their own class!
How do I book?
Visit our website and book online or ring our friendly customer help team.
Do I need to bring anything?
Yourself, a drink and a towel if you want to. Cleaning products will always be available.
How do I adjust the bike?
When you arrive at your class, speak to the class instructor and ask them for help. They will be able to adjust it to your height perfectly.
How do I change 

the 

gears?
On the bike there is a dial which is your gear. Turn it clockwise to increase the intensity and turn it anticlockwise to decrease the intensity.
How do I know when to change the gears?
Your instructor will tell you throughout the class when to increase and decrease the intensity. However, you can adjust it whenever you like if you feel it is too difficult or too easy.
I still feel nervous, what should I do?
Talk to the instructor running the class and tell them you are new. They will look out for you and let you know what to expect. Alternatively, you could come along with a friend so you don't feel alone!
Find Spin on the timetable below.
Fitness Class Timetables & Swim Timetables from Oldham Active (oclactive.co.uk)