All centres
OCL's Wellbeing Leisure takes Friday Club online to combat loneliness during lockdown
Wellbeing Leisure, part of Oldham Community Leisure, has taken its weekly Friday Club online to help combat loneliness whilst its leisure centre doors remain closed due to coronavirus.
The Friday Club, which usually takes place every Friday 10am-2pm at Oldham Leisure Centre, is an inclusive community-based group for those looking to make new friends and become more active with like-minded people. It offers a variety of different activities for locals to try including indoor curling, badminton and table tennis. The group runs specialist workouts, often welcoming guest speakers and instructors, and incorporates a sociable lunch.
The community-based project, funded by Oldham Cares, aims to use physical activity to reduce levels of social isolation within the community – 10 per cent of Oldham residents Oldham identify as being lonely, which has a detrimental impact on health, quality of life and life expectancy.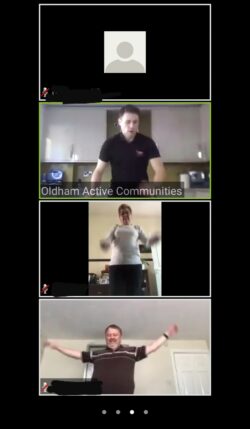 Mark Woodcock, Health and Well Being Advisor, Wellbeing Leisure, says: "The Friday Club members are a great bunch; we welcome people from all backgrounds, abilities and ages – our youngest member is 23 and our oldest is 93!
"We had to find a way to continue Friday Club during lockdown so we adapted to make sessions digital, using an online platform, Zoom. Overcoming isolation and loneliness has always been our goal, and in these troubling times it's even more important to keep connected and to keep active.
"We're very fond of our Friday Club members and, when the lockdown was first announced, we took steps to phone them all to make sure everyone was okay. We've continued to keep in touch and explored whether each member has internet access and the means to meet up online."
The virtual Friday Club is continuing to 'meet' every Friday, at its usual time of 10am. The technology allows everyone to have a chat and is followed by an exercise class lead by Mark. He concludes: "The feedback has been extremely positive and we welcome new members to join in the conversation. The Friday Club format is very relaxed, there is no pressure, and we adapt our activities depending on who is participating. We have been setting our regulars small exercise challenges and fun activities around the home."
One Friday Club regular says: "I look forward to meeting up with my friends online. It's great to see so many friendly faces. I'd never used Zoom before, but with the help of staff, all my fears were overcome."
If you are interested in joining the Friday Club, you can email Mark at info@wellbeingleisure.org or phone us on 0161 207 7000.