All centres
Cartwheel into Summer with Gymnastics Classes
Gymnastics is a fun, exciting sport which introduces children to the core elements of movement, balance, flexibility, strength, and discipline.
Here are a few reasons why we love Gymnastics!
It builds confidence. The sense of accomplishment gained from mastering physical feats goes a long way in building confidence and a sense of self-esteem in children. As they advance, they learn to tackle more significant challenges methodically and achieve their goals.[1]
It is fantastic for their health. Regular participation in gymnastics has health benefits for children of all ages. With regular practice, children develop excellent physical coordination and maintain good health, which in the long run prevents heart disease and even age-related issues such as bone loss.
It is a brilliant skill to have. Hobbies are so important to children and can shape their future. Taking part in different sports like gymnastics can lead them to a future career in sport. These skills they develop will stay with them and can be utilised throughout their lives.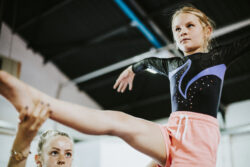 As children move through gymnastics classes, they'll discover various pieces of equipment, learn new skills, and gain exposure to various gymnastics disciplines and routines.
We have beginner, intermediate and advanced classes starting at 4 years old.
Sessions are held at:
Failsworth – Every Monday and Wednesday starting from Monday 7th March
Radclyffe – Every Friday starting 4th February
If you'd like to 
enrol
 your child, or would like more information, contact our Gymnastics Coordinator Kathryn Featherstone.
Email – Gymnastics@ocll.co.uk