Latest News
OCL's popular triathlons set to return this spring – POSTPONED
NOTE – THIS EVENT IS NOW POSTPONED – Please Visit https://milltownraces.co.uk/sprint-triathlon/
After hosting two hugely successful events last year, Oldham Community Leisure (OCL) is pleased to announce that the Milltown Junior and Sprint Triathlons will both be back this spring, with a second Junior Tri also planned for the summer race calendar.
The Saddleworth Sprint Triathlon and the Saddleworth Junior GO TRI will both take place on Sunday 26th April at Saddleworth Pool and Leisure Centre.
The adult Sprint Triathlon will see competitors swimming 400 metres and cycling 20k before embarking on a 5k run. Participants can enter individually or as a team; entry costs £49 for an individual and £63 for a team.
OCL's Junior Triathlons are aimed at children aged eight to 14. In race one, youngsters aged eight to 10 will swim 50m, cycle 800m and run 400m.
In race two, competitors aged 11 to 14 will swim 200m, cycle 2,000m and run 1,200m. Entry costs £13.50 per child. Both events will be registered with GO TRI.
"Oldham's Sprint Triathlon is back! Every year, group participation events become more popular as people look for new challenges to aim for. The Sprint Triathlon, set in the beautiful Saddleworth area, is the perfect event for people looking to try something new and push themselves. These popular races fill up quicker than most, so secure your place soon," says OCL's Community Development & Partnership Manager, Kelly Tattersall.
"OCL will also be offering children two chances to take part in a Junior Triathlon again this year – the Failsworth Junior GO TRI will take place on Saturday 4th July 2019 at Failsworth Sports Centre. It's a great way to encourage youngsters to be have a go at a new activity and enjoy exercising outdoors."
The hugely popular Milltown to Moors Oldham Half Marathon also returns later this year.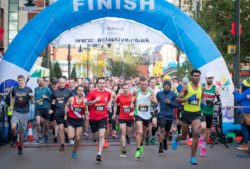 The now infamous event, known as the toughest half in the country, will take place on Sunday 25th October through Oldham and the surrounding countryside, offering runner some of the best scenery Oldham, Saddleworth and the Peak District National Park have to offer.