All centres
Parents and Pre-schoolers: Parent and Toddler Swimming Lessons
Let your little ones swim, stretch, and swing about at our parent and toddler swimming lessons!
According to About Manchester, two million children have missed out on swimming due to the pandemic, and with swimming being a valuable life skill and a great way for children to stay active, it is incredibly important to ensure that children take up swimming lessons this year and make up for lost time.
Swimming is an essential life-saving skill for people of all ages and has numerous physical benefits. In this blog, we will look at the benefits of teaching your child how to swim and why our parent and toddler swimming lessons here at OCL are so valuable.
The Benefits of Teaching Your Child to Swim
Swimming is a fun, physical activity for children of all ages to participate in. Swimming lessons for kids provide children with a safe space to explore the water whilst allowing them to develop a crucial, life-saving skill in the process.
Swimming helps keep your child's heart and lungs healthy, so they can carry on screaming at the top of their lungs and running around the house like there's no tomorrow.[1] The low impact sport also helps improve heart health, lowers blood pressure, improves lung capacity, increases bone strength, and reduces joint pain.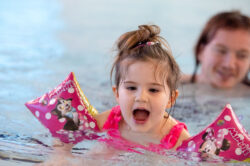 Swimming is a very inclusive and accessible sport, as children of any age or ability can take part.[2] Swimming lessons for kids are more accessible for children with additional needs than almost any other sport classes. Aadaptive swimming, that includes all swim strokes and distances, does not require any special equipment and can be done with very few moderations, which makes it easily accessible to everyone.  Swimming also helps your little ones develop friendships with other children in your area, which will allow them to improve their social skills and make life-long swimming friends.
Swimming is a tricky task for children to begin with, and your child will experience struggles along the way. However, they will be given the opportunity to take on new challenges in many swimming lessons, and these challenges often lead to rewards and accomplishments that your child will be proud of. Swimming will help your child develop their own confidence and make them believe in their own abilities more, and this is incredibly important for their personal growth.
Parent and Toddler Swimming Lessons at OCL
Our Tiny Tots Swim Sessions are a great way to get your child more comfortable and confident in the water. You can accompany your child to splash and swim around at our fun, relaxed sessions with toys, music, and lots of laughter.
Click here to find out more about Tiny Tots Swim Sessions.
Kids Swim Activities
We offer many different types of swimming lessons for kids of all ages and abilities. From splash sessions to sensory swims, there are many full-filled swimming lessons for your child to join.
View our full range of children's swim activities.