All centres
Saddleworth Leisure Centre boosted with £300,000 gym & fitness upgrade
Saddleworth Pool & Leisure Centre now has even more to offer customers following a £300,000 upgrade of its gym and fitness facilities by Oldham Community Leisure.
Gym upgrades includes new state-of-the-art equipment, unrivalled by any other fitness providers in the area.
The new kit features wi-fi-enabled on-board entertainment including live TV, music stations, in-built apps, games and wireless phone connections. This allows users to pair their device to the station to gain vital signs and track their work-out via their own smart phone.
Other new equipment includes the very l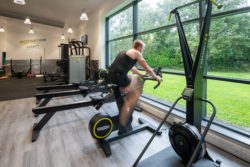 atest products on the fitness market such as Climbmills, Skillrows, Skillbike and Skierg equipment.
In addition, the gym and fitness area have been given a great new look and feel, with smoked oak flooring, colourful wall graphics, bespoke work-out areas and an expanded free weights area.
The bigger weights area now has more equipment, heavier weights and new racks.
The gym is also stocked with medicine balls, powerbands, kettlebells and speed ladders for the perfect all-over body workout.
Other facilities at our Saddleworth centre include a swimming pool, fitness studio, 3G pitch and changing rooms. Overall, it's a brilliant amenity for the community, offering a wide choice of activities for all ages and abilities.
Julie Alston, general manager at Saddleworth Pool & Leisure Centre, said: "We are really pleased with the new gym facilities.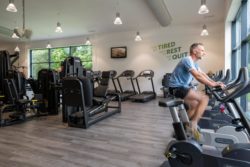 We continually strive to offer the latest innovations and best possible customer experience, which is why this particular investment and refurbishment project is so important.
"Saddleworth Leisure Centre is a fantastic facility and the gym area has always been especially popular. Our member's needs, along with our offering, has changed over time so this latest phase of investment matches those requirements with fantastic, state-of-the-art equipment. The new facilities really help people to work-out in an exciting and more-engaging manner.
"We have also extending our opening times, now opening earlier at 6am on Tuesdays and Thursdays, and introduced a more-varied class and pool timetable to better-cater for customer needs. So come and see what's on offer here. We'll be delighted to show you around and explain more about facilities and membership packages."
Saddleworth Pool & Leisure Centre is located at Station Road, Uppermill, OL3 6HQ.
Find out more about Saddleworth Pool & Leisure. For general enquiries, you can contact us using the contact form on this website or call our Contact Team on 0161 207 7000.