All centres
Les Mills and Les Thrills: The Benefits of a Les Mills Class
Pump up the jam and pump up your adrenaline with a Les Mills fitness class!
Les Mills classes are growing in popularity due to their accessibility, modern style, and emphasis on enjoyment as well as physical results. In this blog, we look at what Les Mills fitness classes are, what the benefits of Les Mills BODYPUMP exercises are, and how you can turn up and tone up with a Les Mills BODYPUMP fitness class here at OCL.
What is a Les Mills fitness class?
Les Mills fitness classes combine movement, music, and motivation to create a workout experience like no other.
They aim to change the way we view and approach exercise, as there is a greater emphasis placed on the enjoyment and accessibility of working out, alongside its physical benefits. Les Mills classes are pressure-free, judgement-free and focus more on amplifying everyone's love and passion for working out, rather than making exercise feel like a strenuous chore.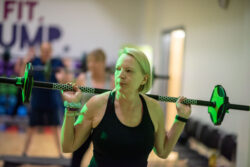 As Les Mills fitness classes are group sessions, you can join the lively atmosphere to ensure you stay moving and motivated at all times. And exercise is always more fun in groups, isn't it?
Extensive scientific research has gone into each workout and each exercise is designed to deliver optimum results, so you can leave every Les Mills fitness class knowing that your hard work has definitely paid off. There are a wide variety of Les Mills fitness programs available to choose from that are packed with an assortment of exercises, so there really is a Les Mills class for everyone. One of the most popular Les Mills classes is BODYPUMP.
What is BODYPUMP?
BODYPUMP is a fast-paced, barrel-based, total body workout that is specifically designed to help you tone up and improve your fitness levels. People of all abilities and fitness levels can join a BODYPUMP session. It's a great strength and cardio workout that is accessible, and we can promise you, you will leave your Les Mills BODYPUMP fitness class feeling fresh, fabulous, and fearless. You can tailor your workouts by adjusting the amount of weight on your barrel to suit your fitness level, and this will help you build up your confidence and fitness ability in no time.
There are many health benefits to BODYPUMP as it's fast-paced. Fast tempo resistance training has been shown to burn more energy than lifting a higher quantity of weight at a slower rate. The high-repetition, low-load training of BODYPUMP also helps to aid bone density and reduce the risk of osteoporosis.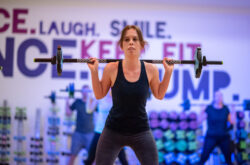 Here at OCL, we run regular Les Mills BODYPUMP classes. In our BODYPUMP workout sessions, you can shape up and tone up whilst listening to a wide range of music, including the chart-toppers of 2021, and of course, classic belt-out tunes. Our specialised Les Mills BODYPUMP class is suitable for everyone over the age of 16 with a good basic fitness level. So, to feel good, feel empowered and feel inspired to exercise, and join our Les Mills BODYPUMP fitness classes here at Oldham Community Leisure today!